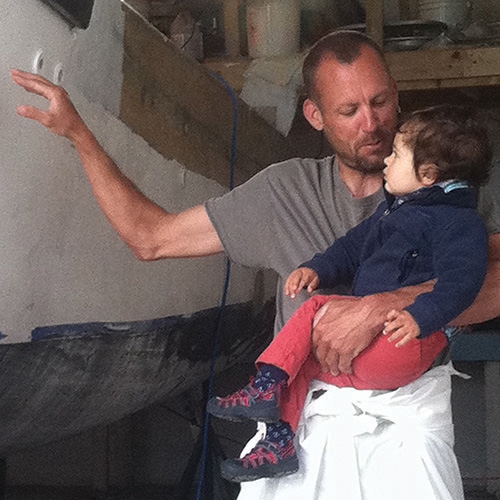 Doug Feeney
CHATHAM
A new boat and a new fishery. When we met longtime Chatham fisherman Doug Feeney in 2013 he was making some significant changes in his life – changes for a more viable future. After working on other fishing boats for years, he decided it was time to go out on his own. He purchased a 32 ft. boat that he intended to use to fish in what was becoming a thriving local fishery - dogfish. But Doug purchased the boat for its hull alone – a hull ideal for this fishery because it doesn't draw a lot of water and carries a lot of weight. The rest he would need to rebuild from scratch. As an experienced boat builder, this would not be a problem. It was the financial resources for parts and commercial space to do the work that posed the challenge. This is where the CDP came in.
Working with our Business & Credit program staff, Doug was able to secure the funding he needed to make Fishing Vessel Noah a reality. "It's priceless," he said about his Micro Loan from the CDP. "It was groundbreaking. I could not have done it on my own." And in his first season, he "got out there and crushed it." With a boat designed to his own specifications, he blew his financial projections out of the water, achieving in three months what he had projected to do in five. In his own words, "The investment gave me the opportunity to succeed."
And, along the way, Doug has become a local spokesperson for the dogfish fishery, a fishery that has been so well managed there is now an overabundance. In 2014 local fishermen in Chatham alone landed 7 million pounds of dogfish - three quarters of what was landed in the entire state of Massachusetts. With this much fish there is a need to develop more markets – domestic markets. Right now the majority of what is caught is sold overseas. Working with our partners at the Cape Cod Commercial Fishermen's Alliance, Doug is hoping to change that. Radio interviews, newspaper articles and public appearances are helping to increase awareness about this sustainable and versatile white fish – an awareness that he hopes will open new doors.
As for what's on the horizon for Doug – eventually an even bigger boat that will allow him to move farther offshore, harvest more species and extend his fishing season. The future is looking bright for Doug Feeney, a future he is working hard to set-up for his young son - Noah.