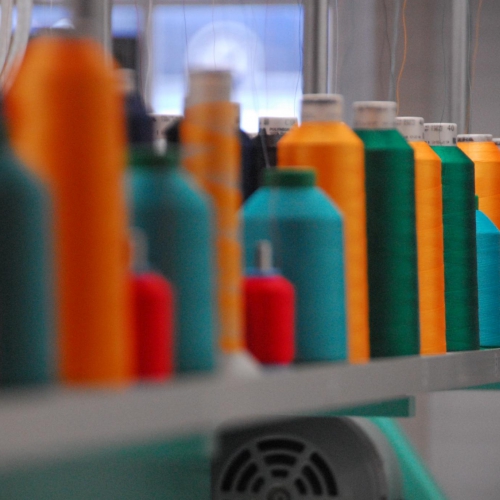 When Carol Hayward bought custom embroidery and silk screening business, Talking Threads 15 years ago, according to her, "I had no business background but was a hard worker." Over a decade later that hard work has paid off, and the business piece she has learned.
When Carol purchased the business, it had been operated on a part-time basis for a dozen years. One of the first significant things she did to grow her business was get out and network. The networking began at local Chambers of Commerce and dovetailed into a long-standing membership with a local chapter of Business Networking International or BNI. It is here she established her robust customer base from local businesses, largely in the trades, retail and restaurant.
As her business grew, Carol complemented her networking activities with business workshops. In her words, "You get stagnant. You need to get out there to hone your skills and interact with other businesses. It's a real nice sounding board." Most recently, as she contemplated taking a "big step" in her business, she took part in the CDP's Grow Smart workshop. According to Carol, "There is nothing but positives to taking a course like Grow Smart." The workshop is targeted to growing businesses looking to take a strategic look at how to refresh and improve their operations. In addition to targeted business topics presented by experts, participants have an opportunity to interact with one another to share challenges and opportunities. "The course helped me get focused and set goals. It was also good to have people ahead of where you are (in business) and those in the same place – it provides good reinforcement."
With a fresh set of thoughts from Grow Smart, Carol began meeting one-on-one with the CDP's Business & Credit Programs Manager. During those meetings they reviewed her finances to determine if her business was ready for a next step she had been contemplating for some time – purchasing a third machine and increasing her staff. According to Carol, "These meetings made me realize that what I needed to do to take my business to the next level was doable. It was not out of reach as I had been thinking." With this validation, Carol did buy that third machine, at the same time hiring another part-time employee.
"It has taken my business to a whole new level," she said. The jobs are getting done much more quickly and added staff has freed up some of her time to think more about the future. "I'm working on the business now," she said, "not in the business."